Fresh Tech Solutions 1080 Titan PC Review
Manufacturer: Fresh Tech Solutions
UK price (as reviewed):£1,399.00 (inc VAT)
US price (as reviewed): N/A
We've seen a couple of systems from Fresh Tech Solutions before, and both were able to pick up Recommended awards thanks to a combination of great value and decent build quality. As such, we were keen to see what it could come up with now that the GTX 1080 is here. In response, it sent us its 1080 Titan PC, which includes a GTX 1080 Founders Edition graphics card and an overclocked Intel Core i5-6600K, wrapped up in a system that costs £1,400 – £100 less than the PC Specialist Define X1 that we saw recently, which also featured a GTX 1080.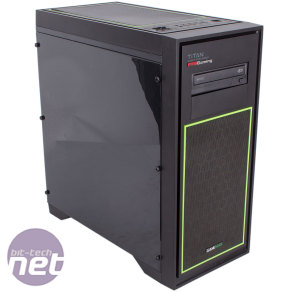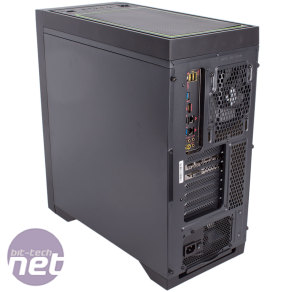 Click to enlarge
Specifically, the CPU is overclocked to 4.5GHz. We've seen a few system integrators go a few steps higher than this but it's a solid overclock nonetheless and a smart CPU choice for a gaming system. The overclock is stabilised with 1.33V in the BIOS. The system is also running fast DDR4 memory, with a 3,000MHz 16GB Corsair kit installed and sporting red heatsinks. The overclock profile is saved properly in the BIOS in case you change some settings and want an easy way to revert.
The CPU and memory are installed in the Gigabyte Z170X-Gaming 5 motherboard. This has plenty of features to keep enthusiasts happy, including the Realtek ALC1150 audio codec with an optical S/PDIF output, both Type-A and Type-C USB 3.1 headers and dual LAN ports. There's no Wi-Fi, but an optional card can be added for £20 in Fresh Tech's configurator. However, this is one of only two options that can be tweaked when buying the system (the other being a warranty extension). Configurable systems are separate to the pre-configured ones on Fresh Tech's website – hopefully the company is able to introduce a bit more customisation and some different options to PCs such as this one soon.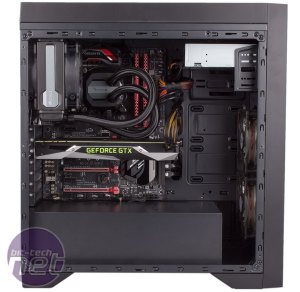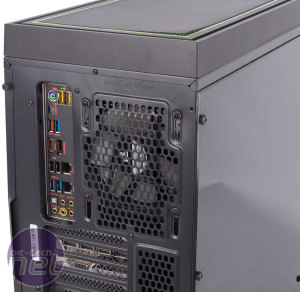 Click to enlarge
As mentioned, the graphics card is the Founders Edition of the GTX 1080, which is sure to provide plenty of gaming grunt. Aesthetically, this means you'll have a green GeForce logo glowing inside the chassis.
We get a little worried when companies send us systems in cases we haven't heard of before, and the Game Max Titan used here is one such case. A quick once over reveals some decent features: four USB ports at the front panel, independent fan control for the top and front LED fans, a PSU cover inside and easily removable dust filters at the front, top and bottom. However, the build quality leaves something to be desired – there's a bit too much plastic used for our liking, and there was more than one issue with bits of the case not being aligned quite right. The tinted plastic side panel feels especially flimsy. Overall, while the case seems functionally very sound, we expected something a little more refined with a £1,400 system.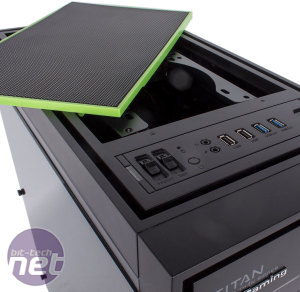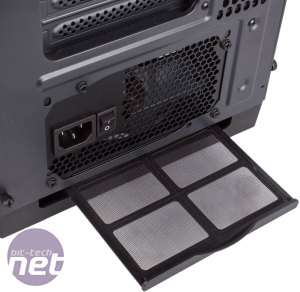 Click to enlarge
The case here has a black and green theme, with little green trim sections and green LED fans (two front intakes and one roof exhaust). Fresh Tech has also installed a green LED strip along the bottom next to the window for extra lighting. The fan controllers can be used to turn the fans and their LEDs off, or to switch them between low and high speed, with the LEDs increasing in brightness at the higher speed. The black and green theme suits the Founders Edition graphics card, and the tinted window gives the system an interesting hazy look from the outside, but the red LEDs on the motherboard spoil the effect a little. We're also not sure why red RAM modules were used instead of black ones, although the tinted window means they won't really be seen anyway.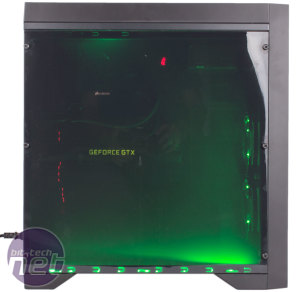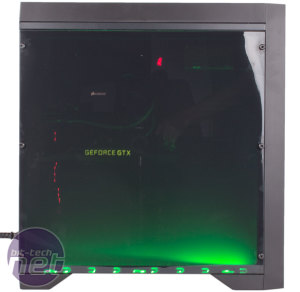 Click to enlarge
The 700W power supply has more than enough wattage to deal with a system of this calibre. In fact you could comfortably add a second GTX 1080 without breaching its limits – it has the second 8-pin PCI-E header necessary to do so, and the motherboard would support such a setup too, albeit in x8/x8 mode rather than full x16/x16 since this is Z170 after all.
The PSU is unfortunately non-modular, but Fresh Tech has done a solid job tidying cables out of the main cavity. The thick tubes from the all-in-one cooler do make it look a bit cluttered inside, but there are no major issues with excess cabling. On the rear side, everything is neatly tied down thanks to ample use of cable ties.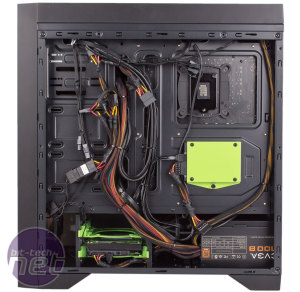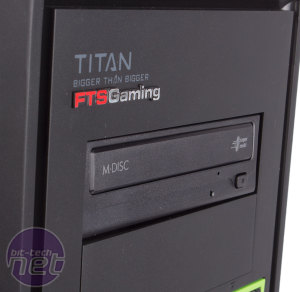 Click to enlarge
Fresh Tech is a rare example of a system integrator that continues to offer optical drives even in high-end systems. Unfortunately, in this system, it really does them no favours. It adds clutter into the system and even a bit of unwanted noise (especially at boot-up), which is irritating since it's a largely unnecessary component these days – we wish there was at least the option to exclude it from the build. However, the really unforgivable thing is the way it has been secured completely out of alignment with the front panel and pushed too far in on one side. This could be an issue from the case's transit, but even then this just means it should have been better secured in the first place. Of course, for any enthusiast it's an easy fix, but when you're paying this much for a system, this certainly shouldn't be an issue you have to deal with, and novice users would surely be even more disappointed.
The 1080 Titan PC comes with a standard combination of a 240GB SATA SSD and a 1TB HDD. PC Specialist's system was £100 more expensive, but certainly had an advantage here with its NVMe M.2 SSD and 2TB hard disk. The Gigabyte motherboard here does at least have a pair of PCI-E 3.0 x4 M.2 slots for future SSD upgrades.
The H80i V2 all-in-one liquid cooler is pretty big and bulky. It has a customisable RGB LED on its pump unit as well as user-tunable fan profile settings. Fresh Tech has created its own profile within Corsair Link – hopefully it strikes a good balance between noise and performance.
Specifications
CPU Intel Core i5-6600K (4.5GHz)
CPU cores Four physical, four threads
Memory 16GB (2 x 8GB) Corsair Vengeance LPX DDR4 3,000MHz
Graphics Nvidia GeForce GTX 1080 Founders Edition 8GB (3 x DisplayPort 1.4, 1 x DL-DVI-D, 1 x HDMI 2.0b)
Storage 1 x 240GB Kingston V300 SSD (OS), 1 x 1TB WD Blue 7,200 RPM hard disk
Motherboard Gigabyte Z170X-Gaming 5
PSU EVGA 700B (80 Plus Bronze, non-modular)
Optical Drive Samsung 24x DVD-RW
Cooling Corsair H80i V2
Case / Dimensions (mm) Game Max Titan / 202 x 473 x 505 (W x D x H)
Networking 2 x Gigabit LAN
Audio 8-channel Realtek ALC1150 codec (onboard)
Operating system Windows 10 64-bit
Audio and USB Ports Rear: 1 x USB 3.1 Type-A, 1 x USB 3.1 Type-C, 3 x USB 3.0, 4 x USB 2.0, 1 x optical S/PDIF, 5 x 3.5mm jacks; Front: 2 x USB 3.0, 2 x USB 2.0, headphone, microphone
Warranty 3 years (1 year collect and return, 2 years parts, 3 years labour)
Prev
Next
1 – Fresh Tech Solutions 1080 Titan PC Review2 – Fresh Tech Solutions 1080 Titan PC Review – Gaming3 – Fresh Tech Solutions 1080 Titan PC Review – PCMark 8 Video and Photo Editing4 – Fresh Tech Solutions 1080 Titan PC Review – Terragen 3, Cinebench R15 and Power5 – Fresh Tech Solutions 1080 Titan PC Review – Storage Benchmarks6 – Fresh Tech Solutions 1080 Titan PC Review – Performance Analysis and Conclusion3 Comments
More About…
Fresh Tech Solutions

gtx 1080

skylake
Scan 3XS Z170 Performance GTK4 Review
MSI GeForce GTX 1080 Gaming X 8G Review
PC Specialist Define X1 Review
EVGA GeForce GTX 1080 FTW Review
Fresh Tech Solutions Ultimate Collection 6600K Falcon R Review
Fresh Tech Solutions Ultimate Collection 6700K Review

Inno3D GeForce GTX 1080 iChill X3 Review
22nd July 2016

Fresh Tech Solutions 1080 Titan PC Review
21st July 2016
Overclockers UK Titan Bayonet Review
19th July 2016
Site Links
Home
About
Score Guide
Email Editor
Terms
Advertise
Facebook Page
Back to Top
Popular Topics
Microsoft

Rx 480

Virtual reality

Nvidia

Pascal
Amd

Vr

Google

Broadwell-e

Xbox one
Popular Companies
Microsoft

NVIDIA

Google

MSI

Ubisoft
AMD

Intel

In Win

Sony

ASUS
Project Logs

Folding @ Home

Bits

newbeta
RSS

Twitter

Facebook

Newsletter