Cooler Master MasterLiquid Pro 240 Review
Manufacturer: Cooler Master
UK price (as reviewed): MSRP £94.99 (inc VAT)
US price (as reviewed): MSRP TBC
Among the many products Cooler Master had on show at its Computex 2016 booth was a new range of all-in-one liquid coolers. Today, the full MasterLiquid range is launching in the UK and we'll be taking a look at the MasterLiquid Pro 240 – 120mm, 140mm and 280mm radiator models will also be available. They are the first to use what Cooler Master calls its FlowOp technology, which refers to the holistic design of the cooler and the flow of liquid around it with specific optimisations at every stage with the end result said to be a quieter, more powerful and longer lasting cooler when compared to other designs.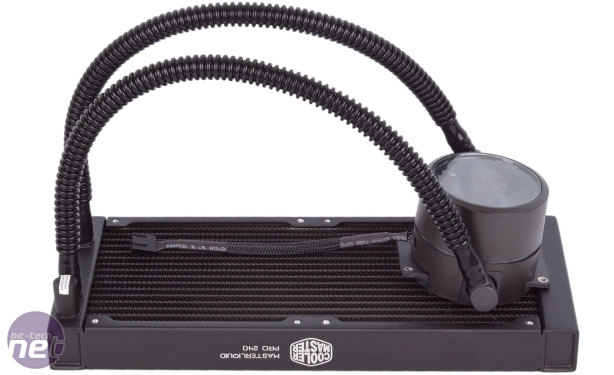 Click to enlarge
The 240mm aluminium radiator used here is a slimline model at 27mm thick, thus giving the MasterLiquid Pro 240 maximum case compatibility. It's an all-black design with fins that are very densely packed and squared rather than rounded. This, Cooler Master says, gives the cooler greater surface area for heat absorption from the radiator channels and leaves more space for airflow. The radiator does have a fill point on, but it's covered by a warranty sticker – this isn't a cooler designed to be refilled or expanded.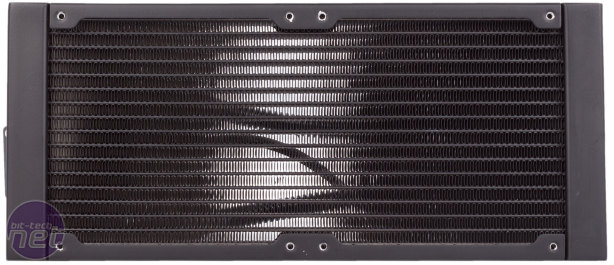 Click to enlarge
Cooler Master has opted for FEP tubing. This typically doesn't look as good as rubber hoses, but the absorption properties and lifetime are said to be better. They are also flexible, anti-kink and plenty long enough, so we've no real complaints.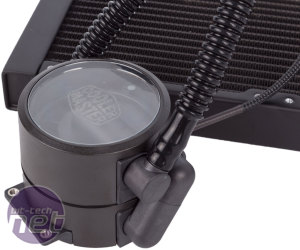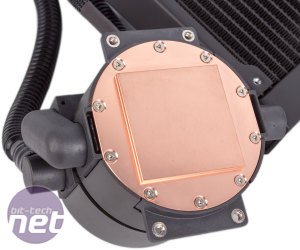 Click to enlarge
The pump unit is what stands out the most. It's very tall and actually comprises two separate chambers. The top one is where cool water flows into, and Cooler Master stores the vital pump components up here; an approach it claims can give its pump 2.5x the life expectancy of other brands. The lower chamber is where water is jet-sprayed in a concentrated flow directly at the centre of the copper water block – we're told the company has achieved 657 percent more surface area here with the addition of extra ultra-fine fins and a 40 percent performance boost over its previous generation technology. The pump uses a custom driver that Cooler Master naturally claims is very quiet. It runs at a fixed speed, but has a four-pin connection to allow for monitoring – this sits at the end of a short, neatly braided cable.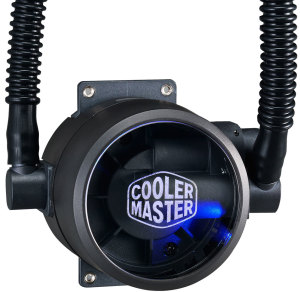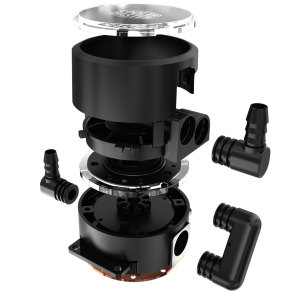 Click to enlarge
The window on the pump unit, as well as the blue LED ring on it, add a little bit of aesthetic flair to an otherwise bland design. RGB LEDs seem to be everywhere these days, but they really require software control, which isn't part of the MasterLiquid Pro 240's design. We wonder if Cooler Master might have been better using a more neutral white LED – the blue here isn't particularly strong, but it could be enough to put you off if you're building a system with a specific colour scheme.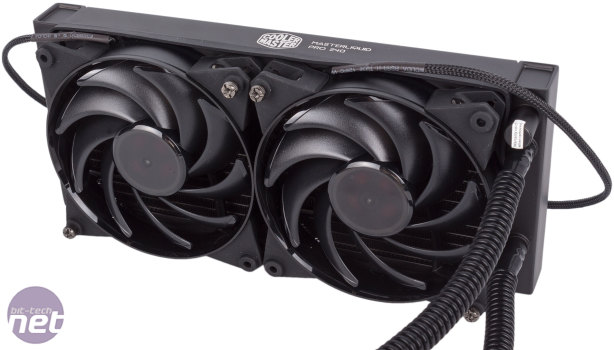 Click to enlarge
Bundled in the box are two of Cooler Master's new MasterFan Pro 120 Air Balance fans. Sporting nine blades, they're designed to strike a neat balance between airflow and static pressure, unlike the MasterFan Air Flow and MasterFan Air Pressure models which are focussed on one or the other. They maintain an all-black design and again have neatly braided four-pin PWM cables. The four mounting corners are fully rubberised, and as an extra layer of isolation they do not mount directly to the radiator but rather to a supplied rubber bracket that effectively acts as one big washer between the two. A splitter cable (also braided) is supplied so you can match their speeds and control them via a single header. Something that Cooler Master doesn't promote in any of its marketing materials for this cooler is that the fans have a speed altering switch on the rear side. The positioning of this means it clearly isn't designed to be tweaked regularly, if at all; it's a set-and-forget experience. We left ours at the default speed setting for testing, since this is what the vast majority of end-users will do, but if you want extra performance or less noise, the option is at least there.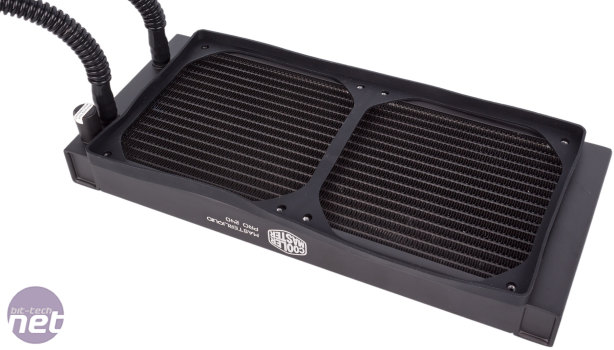 Click to enlarge
For most sockets, you'll need the universal metal backplate, through which screws are passed and locked in place with plastic clips – this can be a bit fiddly with the Intel holes but doesn't take long. You then need to mount either the Intel or AMD mounting arms to the pump – neither come pre-attached. Finally, you pass the screws through the motherboard mounting holes and align the pump unit, securing everything with four nuts. Of course, you don't want to forget thermal paste application – for this you get a handy tube applicator of MasterGel Pro, with easily enough paste for three or more mounts.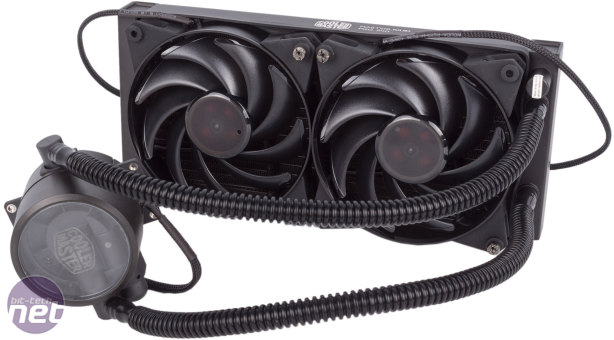 Click to enlarge
Overall, the mounting process is straightforward, but we do have one niggle. There's nothing to hold the backplate construction in place, so you need to hold it there while also aligning the pump, which makes getting the first few nuts on a somewhat delicate process. This isn't an issue for LGA2011(-v3) users, at least, as they'll be aligning with screws that are fixed directly to the motherboard, not a backplate.
Specifications
Compatibility LGA775, LGA1366, LGA115x, LGA2011(-v3); AMD: AM3(+), AM2(+), FM2(+), FM1
Radiator size(mm) 275 x 27 x 119 (W x D x H)
Fan size (mm) 120 x 25 x 120 (W x D x H)
Fan(s) 2 x 120mm PWM, 500 ~ 2,000 RPM
Stated Noise 6-30 dB(A) per fan, <12 dB(A) pump
Prev
Next
1 – Cooler Master MasterLiquid Pro 240 Review2 – Cooler Master MasterLiquid Pro 240 Review – Test Setup and Results3 – Cooler Master MasterLiquid Pro 240 Review – Performance Analysis and Conclusion1 Comment
More About…
aio cooler

all-in-one liquid cooler

Cooler Master

make it yours
Computex 2016 – Day 3
Cooler Master Hyper 212X Review
Cooler Master unveils new Maker case, cooler, PSU
Cooler Master launches MasterGel Maker thermal compound
Cooler Master found guilty in Asetek patent suit
Exploring CPU Cooler Design and Testing with Cooler Master

Asus ROG Strix X99 Gaming Review
13th July 2016

Cooler Master MasterLiquid Pro 240 Review
12th July 2016
MSI GeForce GTX 1080 Gaming X 8G Review
6th July 2016
Site Links
Home
About
Score Guide
Email Editor
Terms
Advertise
Facebook Page
Back to Top
Popular Topics
Microsoft

Vr

Virtual reality

Rx 480

Amd
Nvidia

Google

Htc vive

Xbox one

Corsair
Popular Companies
Microsoft

Ubisoft

AMD

Sony

Google
ASUS

MSI

Oculus VR

In Win

Intel
Project Logs

Folding @ Home

Bits

newbeta
RSS

Twitter

Facebook

Newsletter