Asus ROG Strix X99 Gaming Review
Manufacturer: Asus
UK price (as reviewed):£279.59 (inc VAT)
US price (as reviewed):$338.99 (ex Tax)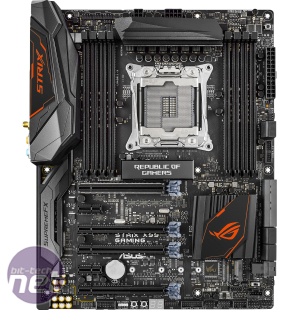 Click to enlarge
When it comes to X99, Asus's ROG presence has been somewhat lacking. The company is still devoid of a micro-ATX offering following the demise of the excellent Rampage Gene, and only the super-expensive Rampage ATX boards have filled the gap.
There's plenty of other excellent boards from Asus, though, if you're hankering after quad-channel memory support, multi-GPU setups and six, eight or 10-core Intel CPUs, but thankfully, the company has finally added some ROG sauce in a reasonably-priced package, courtesy of the new ROG Strix X99 Gaming.
This is perhaps a little different to the Formula and Gene boards you might see using the mid-range Z170 chipset – the Maximus VIII Formula especially is a deeply moody, aggressive board that actually costs the same as the X99 board we have here. As a result, the ROG Strix X99 Gaming is slightly less lavish as you're dealing with more expensive components, so there's no integrated waterblock or fancy front fascias. That's not to say the ROG Strix X99 Gaming is devoid of aesthetic pizazz though – far from it.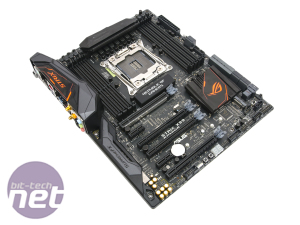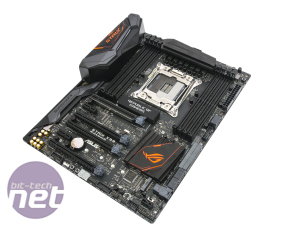 Click to enlarge
RGB lighting is certainly here, with the three primary 16x PCI-E slot levers being illuminated as well as the I/O area and ROG heatsink. In addition, there's a four-pin header that can power and control standard RGB LED strips, with an extension cable included too. The lighting is particularly effective. It's bright, vivid and accurate, with whatever colour you set in the Asus Aura software being pretty much what you see on the board.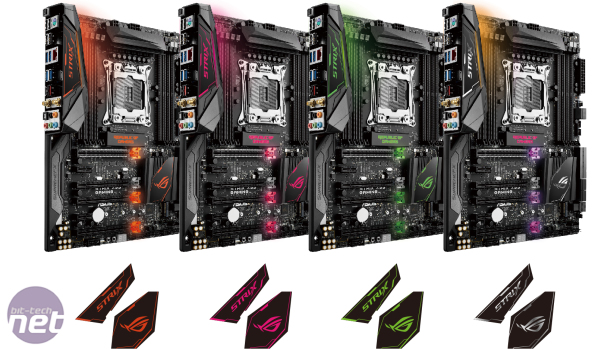 Click to enlarge
There are four distinct lighting channels – the I/O shroud, mid-board heatsink/logo, PCI-E slots and the LED header, each of which can have its own colour and lighting effect, plus you can apply settings for powered on or if the PC is shut down.

Click to enlarge
Aside from lighting, there's one more visual tweak you can make – Asus has included a pack of replacement fascias for the PCH heatsink and I/O shroud that offer chrome, luminous ink and yellow colours as well as the orange included on the board as standard.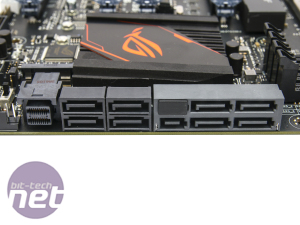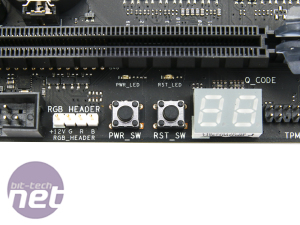 Click to enlarge
There's not much missing from the board in terms of features either. You get USB 3.1 Type-A and Type-C ports, although these are ASMedia-powered – not Intel-powered. All the 10 SATA 6Gbps are Intel-powered, though, so there's no need to be careful of where you connect your 500MB/sec SSD. As you'd expect with X99 being the premium platform, you get both M.2 and U.2 PCI-E 3.0 x4 ports, plus a SATA Express port too and 802.11ac Wi-Fi is included as well.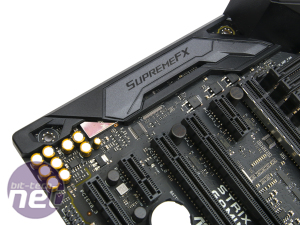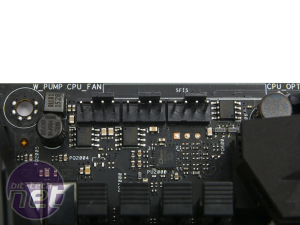 Click to enlarge
There's quite a bit of variation in terms of multi-GPU PCI-E lane bandwidth with the new crop of X99 boards; with 40-lane CPUs the ROG Strix X99 Gaming can offer two-way GPU setups full 16-lane bandwidth in each of the two primary slots, but this drops to an x8/x16/x8 configuration if you use three GPUs. Similarly, the U.2 and M.2 slots share bandwidth and using either of the fully-fledged USB 3.1 ports will see both the 1x PCI-E slot and second 16x PCI-E (which is limited to x4 speed and not used in two-way GPU setups) limited to x1 speed, but we don't see this affecting too many people.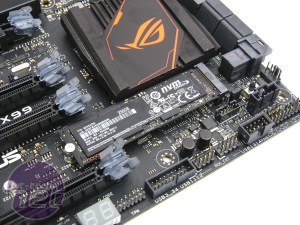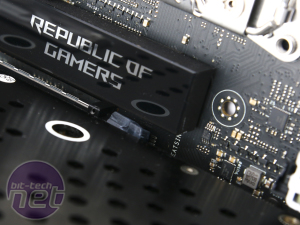 Click to enlarge
The layout is mostly problem free – the CPU socket has plenty of clearance and the heatsinks are fairly low lying. The M.2 port is easily accessible if you're using a single GPU, but as the second slot for multi-GPU setups is double-spaced for better airflow with air-cooled cards, the second GPU will obscure it, though this isn't a massive issue. Slightly more of an issue is the proximity of the primary 16x PCI-E slot to the mid-board heatsink. This makes accessing the slot lever to release devices here very tricky, especially if your graphics card has a backplate.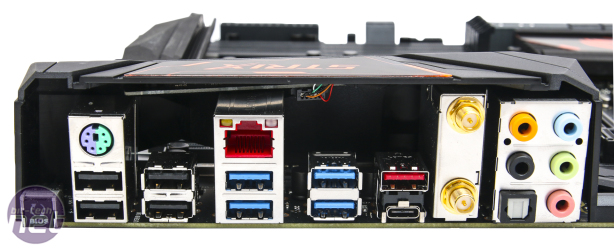 Click to enlarge
There's a slightly half-hearted effort toward the inclusion of overclocking and testing tools too. You get power and reset buttons but these are just tiny buttons without caps and there's no CMOS clear button. You do get an LED POST code display, though, but there's no dual BIOS like with some of its competitors.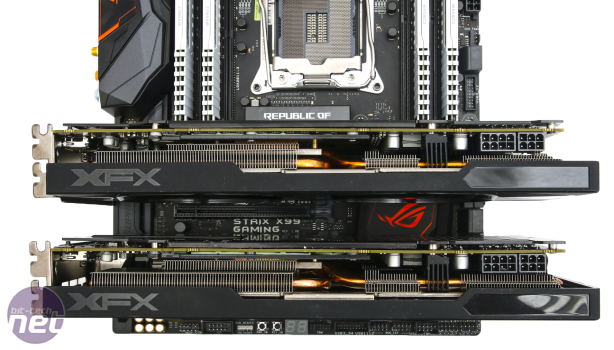 Click to enlarge
Asus makes up for this in part by including a dedicated water cooling pump header, which unlike MSI's equivalent, seemed to be set at 100 percent by default, which is more ideal, plus there are two additional CPU fan headers nearby plus a high-amp header as well for beefy fans. Cooling and power are fairly well catered for – there's an 8-phase power delivery and heatsinks on the VRMs and PCH, but no heat pipes linking them.
Specifications
Chipset Intel X99
Form factor ATX
CPU support Intel Socket 2011-v3 (Broadwell-E, Haswell-E, Xeon)
Memory support Quad-channel DDR4, eight slots, max 128GB
Sound Asus ROG SupremeFX (8-channel Realtek ALC1150)
Networking Intel I218V, 802.11ac Wi-Fi
Ports 10 x SATA 6Gbps (Z170), 2 x SATA Express 10Gbps, 1 x M.2, 1 x U.2, 1 x USB 3.1 Type-A, 1 x USB 3.1 Type-C, 8 x USB 3.0 (4 x via header), 8 x USB 2.0 (4 x via header), 1 x LAN, 3 x surround audio out, line in, mic
Dimensions (mm) 305 x 244
Extras Additional coloured heatsink fascias, 4-pin RGB LED extension cables, cable ties, desktop Wi-Fi antenna, ROG stickers
Prev
Next
1 – Asus ROG Strix X99 Gaming Review2 – Asus ROG Strix X99 Gaming Review – Test Setup3 – Asus ROG Strix X99 Gaming Review – Gaming4 – Asus ROG Strix X99 Gaming Review – PCMark 8 Video and Photo Editing5 – Asus ROG Strix X99 Gaming Review – Terragen 3, Cinebench R15 and Power6 – Asus ROG Strix X99 Gaming Review – SATA 6Gbps, M.2 and Audio7 – Asus ROG Strix X99 Gaming Review – Overclocking and EFI8 – Asus ROG Strix X99 Gaming Review – Performance Analysis and Conclusion0 Comments
More About…
ASUS

broadwell-e

haswell e

lga2011

lga2011-v3

overlcocking

x99
MSI X99A XPOWER Titanium Review
Asus X99-A II Review
Intel Core i7-6950X (Broadwell-E) Review
MSI announces X99A Gaming Pro Carbon
Four new X99 boards announced by Asus for Broadwell-E
Asus X99-Pro Review

Asus ROG Strix X99 Gaming Review
13th July 2016

Cooler Master MasterLiquid Pro 240 Review
12th July 2016
MSI GeForce GTX 1080 Gaming X 8G Review
6th July 2016
Site Links
Home
About
Score Guide
Email Editor
Terms
Advertise
Facebook Page
Back to Top
Popular Topics
Microsoft

Vr

Virtual reality

Rx 480

Amd
Nvidia

Google

Htc vive

Xbox one

Corsair
Popular Companies
Microsoft

Ubisoft

AMD

Sony

Google
ASUS

MSI

Oculus VR

In Win

Intel
Project Logs

Folding @ Home

Bits

newbeta
RSS

Twitter

Facebook

Newsletter