Inno3D GeForce GTX 1080 iChill X3 Review
Manufacturer: Inno3D
UK price (as reviewed):£659.99 (inc VAT)
US price (as reviewed): Currently unavailable
The GTX 1080 is currently the fastest single GPU card you can buy, but thanks to a combination of low supply, a lack of competition from AMD and the pound's demise in the wake of the EU referendum result, it comes at a hefty cost. Even basic models will set you back at least £600 now, and there are plenty of board partners getting in on the action with cards that have extra features, faster clock speeds and custom coolers. One such partner is Inno3D, which sent us its monstrous GTX 1080 iChill X3 card. At the time of writing, this card can be ordered for a cool £660; certainly steep, but at least a bit less expensive than the EVGA GTX 1080 FTW (£690) and MSI GTX 1080 Gaming X (£696) that we've reviewed so far.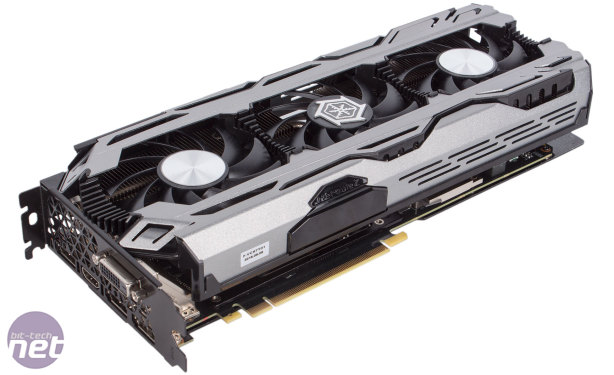 Click to enlarge
Pascal GPUs don't seem to reliably overclock quite as well as their Maxwell predecessors, so having high clocks guaranteed out of the box is more of an upside and Inno3D certainly delivers here. The base clock of the GTX 1080 iChill X3 is 1,759MHz, a 152MHz (nine percent) increase over reference speeds. The boost clock is rated at a massive 1,898MHz as a result. This is a higher engine clock than either the MSI or EVGA card has – there are even faster cards on the market, but the differences are small and they're all more expensive too. What's even better to see is that Inno3D ships the card with its 8GB GDDR5X frame buffer running at 1.3GHz for an effective speed of 10.4Gbps. This is only a four percent boost over reference speeds, but this is still much more than we usually see.
Physically, the card is truly massive. Despite the efficiency gains Nvidia has made with Pascal, Inno3D has seen fit to install a cooler that effectively makes this a triple-slot card. It's also a staggering 302mm long, so it's definitely important to check you've got the room for it – it certainly isn't designed with small form factor builds in mind. Still, even if you want to put this card in a two-way SLI setup, most motherboards nowadays space the appropriate PCI-E slots three slots apart so there will still be room for the fans to draw in air. The shroud also has extra intake vents built into the side specifically for SLI setups.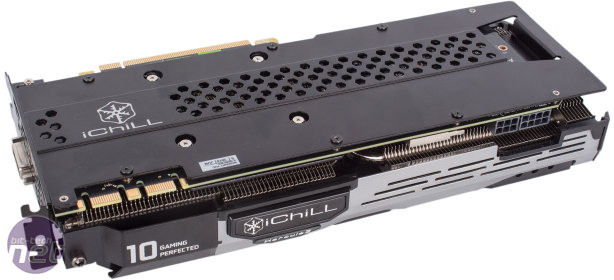 Click to enlarge
The card's build quality is very high. The metal backplate, which is clearly necessary on a card this size, adds lots of rigidity, and we were pleased to discover that much of the cooler shroud is hewn from metal as well. That said, not all of it is, as there are some glossy black plastic bits which we're not as keen on.
Click to enlarge
Inno3D has stuck to the standard selection of Nvidia display outputs, but it has upgraded the single 8-pin PCI-E power input of the reference design by adding a secondary 6-pin one to the mix. The card also includes the standard pair of SLI fingers for use with Nvidia's high-bandwidth bridges – remember the GTX 1080 only supports two-way SLI.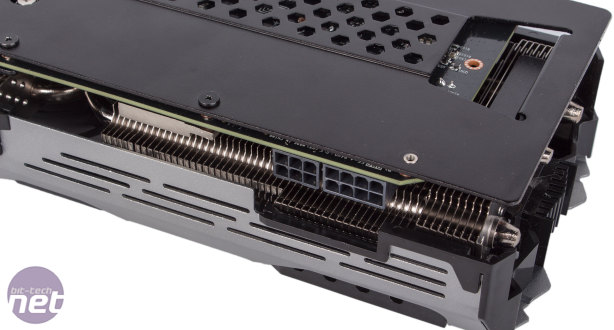 Click to enlarge
The iChill logo along the top of the card is backlit and transitions from blue to green to red to demonstrate how much load the card is currently under. The card lacks RGB LED control like other GTX 1000-series cards we've seen, but it does have some red LEDs inside its shroud for a little extra pizazz.

Click to enlarge
The GPU is cooled by a large contact plate which feeds five heat pipes (three 6mm, two 8mm) that twist and turn their ways through the two aluminium fin stacks, which accommodate a whopping 123 fins in total. The main heatsink also makes direct contact with all the critical power circuitry via thermal padding, while a separate metal contact plate is used for cooling the memory chips – it's good to see Inno3D hasn't forgotten about these parts.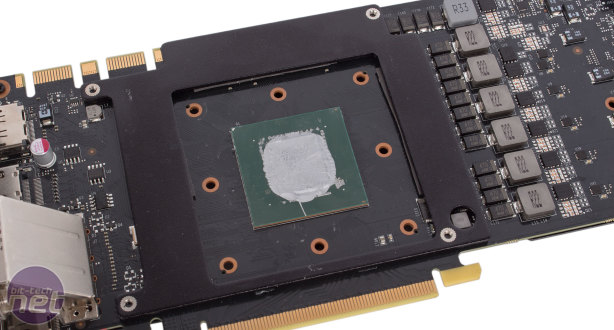 Click to enlarge
A trio of fans is used to cool the heatsink apparatus. These fans use Inno3D's Scythe blade design and Japanese bearings that are said to be dust-proof and increase the longevity of the fans. The direction of the heatsink fins mean that most air will be guided towards your motherboard or back into your chassis, so good exhaust airflow is a must. The fans are semi-passive as well, so they'll switch off when the GPU temperature is low enough.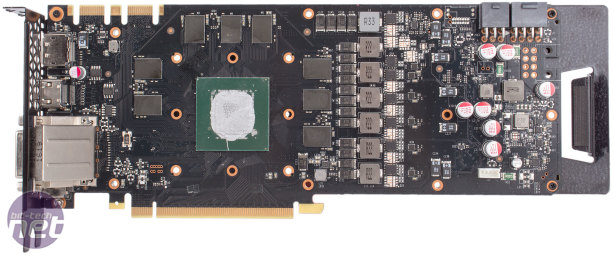 Click to enlarge
The custom PCB employs a 6+1 phase power design. There is no mention made of upgraded chokes, capacitors or MOSFETs for the power delivery network.
Specifications
Graphics processor Nvidia GeForce GTX 1080, 1,759MHz (1,898MHz boost)
Pipeline 2,560 stream processors, 160 texture units, 64 ROPs
Memory 8GB GDDR5X, 10.4GHz effective
Bandwidth 332.8GB/sec, 256-bit interface
Compatibility DirectX 12, Vulcan, OpenGL 4.5
Outputs/Inputs 3 x DisplayPort 1.4, Dual Link DVI-I, HDMI 2.0b
Power connections 1 x 8-pin PCI-E, 1 x 6-pin PCI-E, top-mounted
Size 302mm long, 109mm tall, triple-slot
Warranty Three years
Prev
Next
1 – Inno3D GeForce GTX 1080 iChill X3 Review2 – Inno3D GeForce GTX 1080 iChill X3 Review – Test Setup3 – Inno3D GeForce GTX 1080 iChill X3 Review – Ashes of the Singularity4 – Inno3D GeForce GTX 1080 iChill X3 Review – Fallout 45 – Inno3D GeForce GTX 1080 iChill X3 Review – Hitman6 – Inno3D GeForce GTX 1080 iChill X3 Review – Tom Clancy's The Division7 – Inno3D GeForce GTX 1080 iChill X3 Review – Total War: Warhammer8 – Inno3D GeForce GTX 1080 iChill X3 Review – The Witcher 3: Wild Hunt9 – Inno3D GeForce GTX 1080 iChill X3 Review – Unigine Valley 1.010 – Inno3D GeForce GTX 1080 iChill X3 Review – Power and Thermals11 – Inno3D GeForce GTX 1080 iChill X3 Review – Overclocking12 – Inno3D GeForce GTX 1080 iChill X3 Review – Performance Analysis and Conclusion15 Comments
More About…
gtx 1080

Inno3D

nvidia

pascal
Fresh Tech Solutions 1080 Titan PC Review
Nvidia GeForce GTX 1060 Founders Edition Review
MSI GeForce GTX 1080 Gaming X 8G Review
PC Specialist Define X1 Review
Asus GeForce GTX 1070 Strix Review
EVGA GeForce GTX 1080 FTW Review

Inno3D GeForce GTX 1080 iChill X3 Review
22nd July 2016

Fresh Tech Solutions 1080 Titan PC Review
21st July 2016
Overclockers UK Titan Bayonet Review
19th July 2016
Site Links
Home
About
Score Guide
Email Editor
Terms
Advertise
Facebook Page
Back to Top
Popular Topics
Microsoft

Rx 480

Virtual reality

Nvidia

Vr
Pascal

Google

Amd

Broadwell-e

Gtx 1080
Popular Companies
Microsoft

NVIDIA

Google

MSI

Ubisoft
AMD

Intel

In Win

Sony

ASUS
Project Logs

Folding @ Home

Bits

newbeta
RSS

Twitter

Facebook

Newsletter