PC Specialist Defiance III Review
Manufacturer: PC Specialist
UK price (as reviewed):£1,319 (inc VAT) (as configured)
US price (as reviewed): N/A
We're pretty excited at what portable gaming has seen over the last few weeks. Nvidia has launched its Pascal GPUs into the laptop market, but without an M-series moniker. What we have are fully-fledged desktop GPUs in the latest Pascal-powered gaming laptops, which means there's some serious gaming power to be had in these new machines. Today we're looking at one of the first efforts from PC Specialist – the Defiance III, which retails for just over £1,300, and sports a GeForce GTX 1060.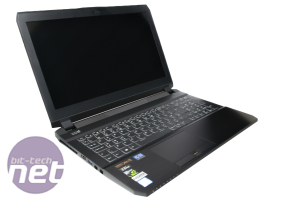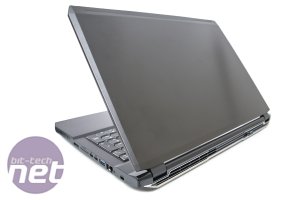 Click to enlarge
This is a 15in beast, as opposed to MSI's 14in GS43VR Phantom Pro that we looked at recently, but GPU and indeed their identical Intel Core i7-6700HQ CPU aside, the two are quite different. As well as a bigger screen, PC Specialist has the option of a 3K screen with the Defiance III, which is also non-glossy. This is an interesting choice of resolution as 4K would undoubtedly be too much for the GTX 1060, but 3K does offer benefits in visual pizazz, even on a screen this small – compared to a desktop monitor of course – not least of all because you're likely to sit much closer to it.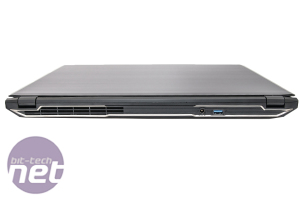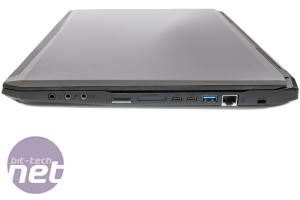 Click to enlarge
The GTX 1060 also has plenty of headroom at 1,920 x 1,080, as the MSI unit's results proved, but can it cope with a doubling of the number of pixels, rising from just over 2 million at 1080p, to 4.5million odd at 3K? We shall see. The rest of the specification is very balanced too. There's the quad-core, hyper-threaded Core i7-6700HQ, which can boost to 3.5GHz when needed and can provide plenty of grunt in multi-threaded applications – it's proven itself to be faster than a desktop Core i5 in plenty of our benchmarks.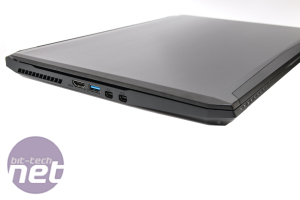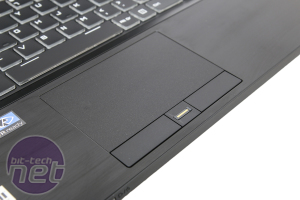 Click to enlarge
M.2 PCI-E SSDs are all the rage at the moment in laptops, but they still demand a big premium that's questionable in a PC or laptop retailing for less than £1,500. MSI went for Samsung's SM951 with its £1,500 GS43VR Phantom Pro, but retailing for £200 less, PC Specialist has made the sensible choice of sticking with a SATA 6Gbps SSD, in the form of a 500GB Samsung SSD 750 EVO, which gives you much more breathing room than the typical 128GB and 256GB PCI-E SSDs in other laptops. If you're a keen gamer then this is the kind of space you should be aiming for nowadays.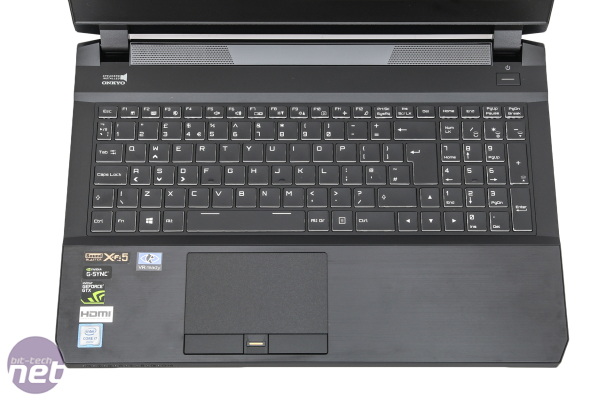 Click to enlarge
There's a generous 16GB of HyperX Impact 2,1333MHz DDR4 memory, which shouldn't require an upgrade for the life of the laptop. You get standard onboard audio with the usual minijacks plus a trio of USB 3.0 ports and two USB 3.1 Type-C ports – all very trendy. There's a pair of mini DisplayPorts too as well as the obligatory HDMI port.
If you need extra gigabytes for storage space, keeping your games, Windows and programs on the SSD, then there's also a 1TB WD Blue hard disk as well. All these options are tweakable in PC Specialists' online configurator of course – you can upgrade to a GTX 1070 for an extra £200 or so, for example.
The Defiance III is hefty at 2.5kg, but as we saw with the MSI laptop recently, using a desktop GPU in a laptop does require decent cooling, so we're hoping that there's no throttling this time in lengthy gaming sessions with this larger chassis and similar specification. Sadly, despite being a 15in laptop, it uses the same capacity battery as the smaller 14in MSI, at 60Wh, so with a similar specification and higher resolution screen, we're not expecting to see a better battery life. That said, the MSI GS43VR Phantom Pro actually did exceptionally well here, so even something nearly as good would still be a great result.
The chassis is a mix of black brushed aluminium and plastic. The lid is a tad flimsy, but even pressing firmly on it resulted in no screen distortion with the display powered up. The bezel is quite considerable, though – it's no Dell XPS, but it's something you'll get used to. The touchpad surface is slightly textured, but allows your finger to move across with ease and is a decent size at just under 11cm across, plus you get individual buttons, rather than a rocker design with a finger print scanner included too for quick logins and the like.
Click to enlarge
The keyboard is a joy to use, with super-quiet chiclet keys. They're fairly responsive, with a light, characteristic bounce and subtle backlighting, which is now RGB-enabled and can be controlled through the pre-installed control centre software. The wrist area makes for a great support too so using it for long periods of typing shouldn't be an issue. The keyboard is obviously full size with a numpad, but the left shift button is tiny, which may take some getting used to. In addition, there's no top side indicator lights for capslock or numlock either – these are shown using LEDs on the front of the laptop that are often obscured by your arm – we'd much rather see on-keyboard lights for these toggles.
Specifications
CPU Intel Core i7-6700HQ (2.6GHz/ 3.5GHz turbo-boost)
CPU threads Eight, quad core + Hyper-threading
Memory 16GB (2 x 8GB) Kingston 2,133MHz DDR4
Graphics Nvidia GeForce GTX 1060 6GB
Storage 1 x 500GB Samsung SSD 750 EVO (OS), 1 x 1TB WD Blue hard disk
Screen 15in non-glossy IPS, 2,880 x 1,620
Dimensions (mm) 385mm x 271mm x 25mm (W x D x H)
Networking 1 x Gigabit LAN, 802.11ac Wi-Fi
Audio 8-channel Realtek Audio, microphone, headphone, 2 x speakers
Keyboard backlighting Yes (blue)
Battery Li-Po 60Wh
Webcam HD
Weight 2.5kg (with battery)
Operating system Windows 10 64-bit
Ports 2 x USB 3.1 Type-C, 3 x USB 3.0, HDMI, 2 x mini-DisplayPort, headphone, microphone, 6-in-1 card reader.
Warranty 3 Years (1 month Collect & Return, 1 year parts, 3 years labour)
Prev
Next
1 – PC Specialist Defiance III Review2 – PC Specialist Defiance III Review – Interior3 – PC Specialist Defiance III Review – Gaming Performance4 – PC Specialist Defiance III Review – PCMark 8 Video and Photo Editing5 – PC Specialist Defiance III Review – Terragen 3, Cinebench R15 and Battery life6 – PC Specialist Defiance III Review – Storage Benchmarks7 – PC Specialist Defiance III Review – Display Performance8 – PC Specialist Defiance III Review – Performance Analysis and Conclusion3 Comments
More About…
gtx 1060

msi. gaming laptop

PC Specialist

skylake
MSI GS43VR Phantom Pro Review
Nvidia reveals Pascal notebook details
MSI GeForce GTX 1060 Gaming X 6G Review
Asus GeForce GTX 1060 Strix OC Review
Nvidia GeForce GTX 1060 Founders Edition Review
Nvidia announces GTX 1060

PC Specialist Defiance III Review
26th September 2016

Aqua Computer Kryographics Pascal for Nvidia Titan X Review
23rd September 2016

ViewSonic VX2776-smhd Review
21st September 2016
Site Links
Home
About
Score Guide
Email Editor
Terms
Advertise
Facebook Page
Back to Top
Popular Topics
Amd

Financial

Vr

Virtual reality

Gaming mouse
Google

Steam

Mouse

European union

Water cooling
Popular Companies
Microsoft

AMD

NVIDIA

Gigabyte

MSI
Google

ASUS

Intel

Sony

Samsung
Project Logs

Folding @ Home

Bits

newbeta
RSS

Twitter

Facebook

Newsletter