Aqua Computer Kryographics Pascal for Nvidia Titan X (Acrylic Glass Edition) Review
Manufacturer: Aqua Computer
UK price (as reviewed):£85.54 (inc VAT)
US price (as reviewed): Currently unavailable
Anyone who read our Titan X (Pascal) review will know just how power- and thermally-limited Nvidia's new beast is. With these limits lifted via third-party software, you can overclock it to an impressive degree, but the cooler becomes much noisier and power consumption spikes as well. Water-cooling can't address this latter point, but it sure can do something about the former. As such, we jumped at the chance to get a water block in and see what could really be achieved.
Click to enlarge
The water block we got in comes from Aqua Computer, and is the Kryographics Pascal for Nvidia Titan X (Acrylic Glass Edition). It retails for 100 Euros or about £85, at least when it's in stock. First impressions are certainly positive: it weighs in at over 1kg, and the build quality is top notch. The bulk of the weight of course comes from the thick copper base, although a stainless steel frame and the acrylic glass covering complete the block.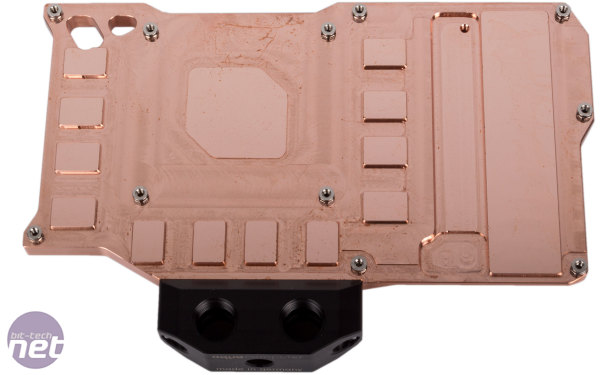 Click to enlarge
On the underside, you can see the polished contact plates for the GPU and twelve memory chips, while on the right side there's an additional contact area for the VRMs. The coolant enters the block and immediately passes over much of the memory before entering the jet-plate that takes care of the GPU. After this, it splits into three different channels (which helps to boost surface area) to take care of the remaining memory and power components.
The Delrin connection terminal has G 1/4 inlet and outlet fittings on both sides, so it should fit easily and neatly into a loop regardless of where the other connections are positioned. A pair of plugs are provided to block out the unused connections. The terminal can be replaced with other kits specifically for SLI setups, and the water block is indented enough to make way for the new high-bandwidth SLI bridges, although we're only testing a single card setup here.

Click to enlarge
Relatively speaking, the Titan X is a pretty difficult card to disassemble, if only for the sheer number of screws needed. The backplate has tiny Philips 1mm screws that need removing, and comes off in two parts. After this, a normal Philips screwdriver is needed as well as a 4mm hex nut screwdriver to release the Titan X cooler from the now exposed rear of the PCB. Our early water block sample was not supplied with one of these, but we're told that retail ones will be.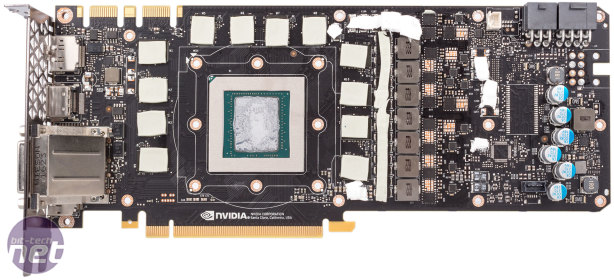 Click to enlarge – The Titan X (Pascal) with its cooler removed
Eventually, you'll be able to pry the cooler off – remember to disconnect the illumination and fan cables first, however. After this you'll be left with a card with thermal gunk and padding all over it, and this all needs to be removed and the surfaces cleaned as best as possible.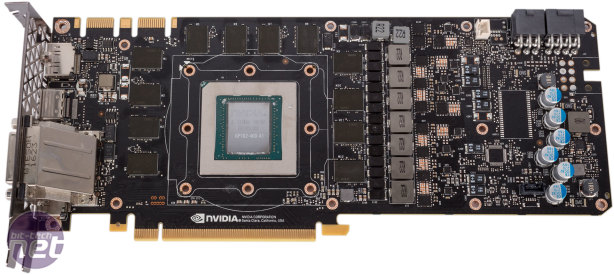 Click to enlarge – The Titan X (Pascal) PCB cleaned
Thermal paste is needed for the GPU and twelve memory chips and you'll need to purchase this separately as it isn't supplied, sadly. That said, we assume most people interested in water-cooling won't be phased by this and probably have a few spare tubes anyway. What you do get is a thermally conductive pad, which needs to be chopped up and applied to the MOSFET area, as shown – it's a shame a single pad large enough to cover the whole section here isn't supplied.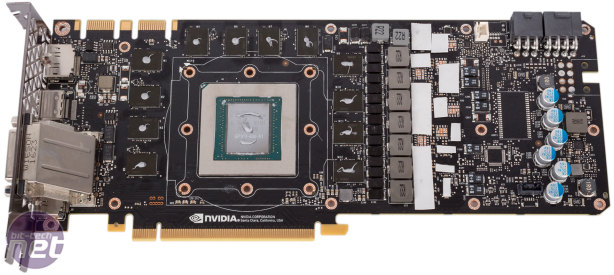 Click to enlarge – The Titan X (Pascal) PCB with new thermal materials applied
Finally, you're now ready to secure the water block, which involves securing 11 screws. A few areas that are directly cooled by the standard Titan X cooler, most notably the capacitors in between the chokes and memory chips, are not physically connected to the water block – hopefully this doesn't affect overclocking.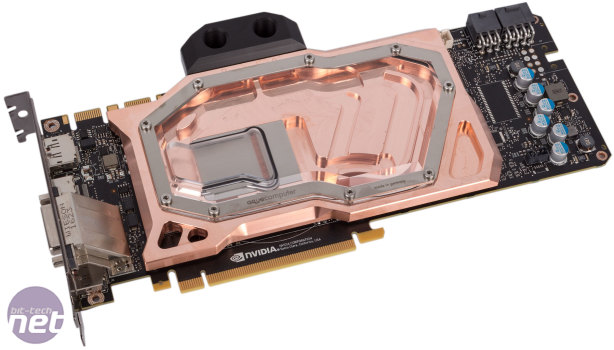 Click to enlarge – The Titan X (Pascal) PCB with the Aqua Computer water block fitted
Aqua Computer does have backplate options for its Titan X water-coolers, and while it was kind enough to send us one we didn't have time to test with it as our time with the card was limited. Still, the water block is of course the most important component, so let's see what it can do.
Prev
Next
1 – Aqua Computer Kryographics Pascal for Nvidia Titan X Review2 – Titan X (Pascal) Water-Cooling – Test Setup and Results3 – Titan X (Pascal) Water-Cooling – Performance Analysis and Conclusion25 Comments
More About…
Aqua Computer

nvidia

pascal

titan x

water block

water cooling
Nvidia Titan X (Pascal) Review
Aqua Computer announces Pascal Titan X waterblock
EK Water Blocks announces Titan X (Pascal) water blocks
Nvidia launches Titan X (Pascal): Retails for £1,099
Nvidia outs new Pascal Titan X
Water-cooling Nvidia's Titan X

PC Specialist Defiance III Review
26th September 2016

Aqua Computer Kryographics Pascal for Nvidia Titan X Review
23rd September 2016

ViewSonic VX2776-smhd Review
21st September 2016
Site Links
Home
About
Score Guide
Email Editor
Terms
Advertise
Facebook Page
Back to Top
Popular Topics
Amd

Financial

Vr

Virtual reality

Gaming mouse
Google

Steam

Mouse

European union

Water cooling
Popular Companies
Microsoft

AMD

NVIDIA

Gigabyte

MSI
Google

ASUS

Intel

Sony

Samsung
Project Logs

Folding @ Home

Bits

newbeta
RSS

Twitter

Facebook

Newsletter