PC Specialist Define X1
Manufacturer: PC Specialist

UK price (as reviewed):£1,499 (inc VAT)

US price (as reviewed): N/A
The rest of 2016 looks like it will be quite exciting in terms of graphics launches, especially as Nvidia will likely be looking to respond to AMD's recent strong mid-range launch, the RX 480. However, it's at the premium end of the graphics market that PC Specialist is delving into with its latest gaming rig – the Define X1, which sports a monstrous Nvidia GTX 1080. However, that's not the only interesting item here, despite the system retailing for a reasonable £1,500.
Click to enlarge
It's obviously aimed at high resolution, multi-monitor and VR gamers given the GTX 1080's prowess in these fields. There's a hint of ticking premium boxes with the Define X1 too. You get a rather lavish Core i7-6700K, which has been overclocked to 4.5GHz, netting you plenty of processing punch. However, you have to consider if you actually need all the benefits of this hyper-threaded CPU. If you just want to game, watch YouTube and do a bit of photo editing then a Core i5-6600K is possibly a better option and could save you £100 or so.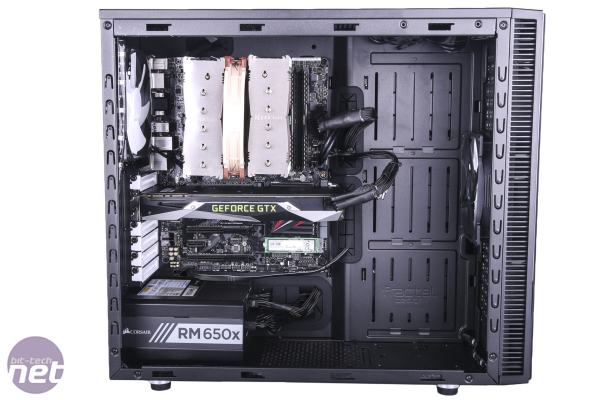 Click to enlarge
The 4.5GHz overclock is achieved here using a vcore of 1.3V, which isn't too high and should be more than tameable by the cooler of choice. Rather than opt for the usual all-in-one liquid cooler, PC Specialist has gone for a tried and tested Noctua NH-D15S, which is equipped with a 140mm premium Noctua fan sandwiched between two large aluminium heatsinks. Noctua's large air coolers often retail for similar prices to many mid-range all-in-one liquid coolers but are often far quieter and still perform well, so it's an interesting choice but also one that we're happy to see.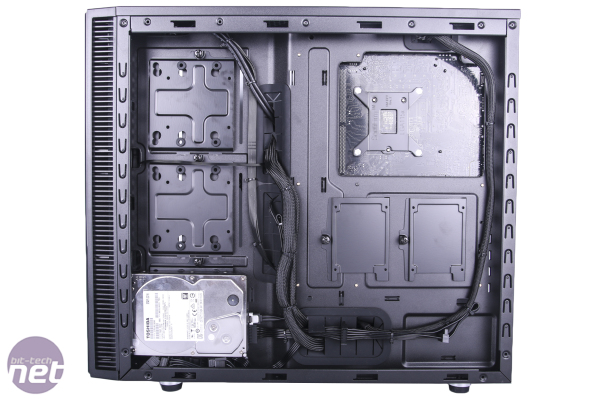 Click to enlarge
Another perhaps eyebrow-raising addition is the inclusion of a Samsung 256GB SM951 SSD. Again we raise the issue of whether a standard SATA 6Gbps SSD would have been a better choice here as you'd likely get a 500GB model for the same cash. However, we can't deny the lure of this super-fast SSD, which is rated at 2,150MB/sec read and 1,200MB/sec write speeds. Upgrading to the 500GB model would cost less than £100 extra or you can switch to a 500GB Samsung SSD 850 Evo for the same money if you need more space using PC Specialist's online configurator.
Click to enlarge
Sitting at the heart of the PC is an Asus Z170 Pro Gaming, which sports both USB 3.1 Type-A and Type-C ports, but does lack Wi-Fi although again you can add a Wi-Fi adaptor using PC Specialist's configurator if you need one. At the other end of the spectrum, the PC is housed inside a Fractal Design Define S, which is standard apart from the slightly haphazard addition of green LED strips. It has its usual two 140mm fans included, located at the front and rear of the case and acting as an intake and exhaust respectively.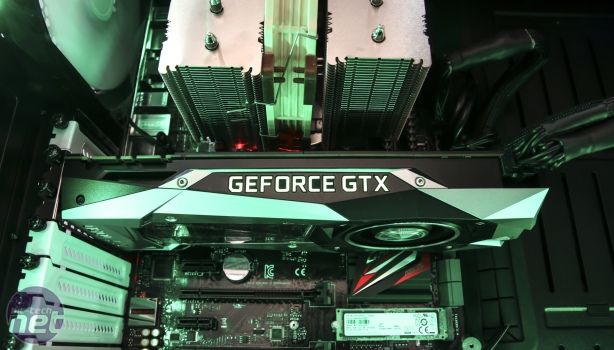 Click to enlarge
The LEDs add some much needed pizazz to the PC, which is otherwise quite bland and featureless. There's a huge amount of open space inside so you could potentially opt for a smaller case, especially as there's no all-in-one liquid cooler to contend with. We can't deny that it's a very clean build though, and with the 2TB Toshiba hard disk (7,200 RPM) located behind the motherboard tray, the setup will promote airflow and cable tidying has been done to a high standard too.
A 650W Corsair RMx series PSU powers our particular system as you can see in the photos, but PC Specialist told us that it has changed the specification to now use a CS-series model of the same wattage. With our own testing showing that a GTX 1080-powered system typically draws around 350-400W under load, this seems like a good choice. As standard the PC comes with Arctic MX-4 thermal paste applied, Windows 10 64-bit pre-installed and a somewhat basic three-year warranty that only offers one month collect and return (in addition to longer periods of parts and labour coverage), although again this can be bolstered in the configurator to one year for just £5 – well worth doing, with other options extending this and the parts and labour options further too.
Specifications
CPU Intel Core i7-6700K (overclocked to 4.5GHz)

CPU cores Four physical, eight threads

Memory 16GB (2 x 8GB) Corsair Vengeance DDR4 3,000MHz

Graphics Nvidia GeForce GTX 1080 8GB

Storage 1 x 256GB Samsung SM951 M.2 SSD, 1 x 2TB Toshiba DT01ACA200 hard disk

Motherboard Asus Z170 Pro Gaming

PSU Corsair CS650M modular PSU

Optical Drive None

Cooling Noctua NH-D15S

Case / Dimensions (mm) Fractal Design Define S / 322 x 535 x 615 (W x D x H)

Networking 1 x Gigabit LAN

Audio 8-channel Asus SupremeFX (onboard)

Operating system Windows 10 64-bit

Audio and USB Ports Rear: 1 x USB 3.1 Type-A, 1 x USB 3.1 Type-C, 4 x USB 3.0, 2 x USB 2.0, 1 x optical S/PDIF, 5 x 3.5mm jacks; Front: 2 x USB 3.0, headphone, microphone

Warranty 3 years (1 month collect and return, 1 year parts, 3 years labour)
Prev
Next
6th July 2016

30th June 2016

29th June 2016