Intel Core i7-6950X (Broadwell-E) Review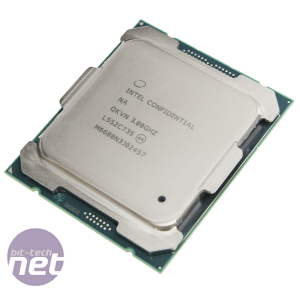 Click to enlarge
Today marks somewhat of a milestone in desktop PC performance. 2016 sees the introduction of the first desktop 10-core CPU, and it comes in the form of the Core i7-6950X. It's taken a decade to get here since the first desktop dual-core CPUs and for anyone that can make real use of this monstrous power, then all things point to the Core i7-6950X being one seriously powerful CPU indeed.
As well as the possibility of having 20 threads at your disposal alongside several graphics cards, there's more being unveiled today than just a 10-core CPU. If you've been following the rumour mill, then you'll likely have guessed the Core i7-6950X wasn't going to be the only CPU coming to retailers today.
There's actually a total of four new CPUs – all compatible with current X99 motherboards. Just as we saw with the Haswell-E launch, while they're all massively powerful CPUs that offer more cores, threads and demand more cash than the mainstream Core i7-6700K, Intel mixes things up again when it comes to PCI-E lanes.
Your decision, yet again, will be a tactical one, but in case you missed the last X99 CPU review, we'll do a little recap. The PCI-E lanes are split into two distinct groups as far as the CPUs are concerned. 40-lane CPUs can dish out the full 16-lane bandwidth to two GPUs in a two-way setup with a further eight lanes available too. This configuration was introduced with the launch of the X99 chipset in 2014, and is a slight upgrade from X79 in that if you stretch to more than three GPUs, it could only manage to dish out a four-way x8 configuration whereas X99 Haswell-E and Broadwell-E systems can do five-way x8.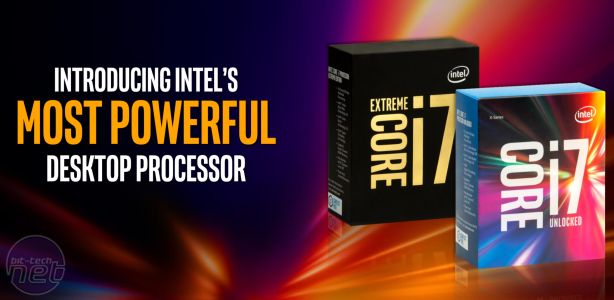 Click to enlarge
However, with Haswell-E came the Core i7-5820K, which only has 28-lanes and even basic maths tells us that two-way setups won't benefit from a dual x16 configuration. In fact, apart from the addition of a few extra next-gen storage formats and two extra CPU cores, there's very little on offer with a 5820K-based X99 system compared to Z170 and a Core i7-6700K. The difference is even smaller now that there are lots of Z170 boards with at least one M.2 port with full PCI-E x4 bandwidth plus SATA Express and some even have U.2 as well.
Pin layout and CPU core diagram – Core i7-6950X – Click to enlarge
While the choice at the low-end is somewhat familiar – the new Core i7-6800K is the poor old CPU with only 28-lanes, there are now three 40-lane options, each with different frequencies, cache and a trio of core options, meaning that if you're gunning for a two-way GPU setup, you have a tough decision to make. At least it might appear that way at first, but the price of the new CPUs may well make that decision for you.
The Core i7-6950X is slated to retail for an eye-watering $1,569 – around 50% more than the Core i7-5960X did at launch. There's obviously a few good reasons for this – you're getting an additional two cores and four threads, the CPU is Turbo Boost Max 3.0 enabled (more on that in a minute), there's 5MB extra shared cache and the manufacturing process has moved on from 22nm with Haswell–E launched in August 2014 to 14nm with Broadwell-E, again with Tri-gate transistors. The new CPUs also sport per-core overclocking, although this has been available to some extend already, but they also introduce AVX ratio offset and VccU voltage control. AVX instructions can put extreme heat loads through the CPU – they're one reason why recent versions of Prime 95 run considerably hotter than older versions such as 26.6. We haven't had time to look into this feature, but our guess would be that offsetting the ratio could reduce this load and associated heat in some situations.
| | | | | | | | |
| --- | --- | --- | --- | --- | --- | --- | --- |
| Intel CPU | Base Clock | Turbo Freq | Cores/Threads | Cache | PCI-E 3.0 Lanes | TDP | Price |
| Core i7-6950X | 3GHz | 3.5GHz | 10/20 | 25MB | 40 | 140W | $1569 / £1197 |
| Core i7-6900K | 3.2GHz | 3.7GHz | 8/16 | 20MB | 40 | 140W | $999 / £760 |
| Core i7-6850K | 3.6GHz | 3.8GHz | 6/12 | 15MB | 40 | 140W | $587 / £448 |
| Core i7-6800K | 3.4GHz | 3.6GHz | 6/12 | 15MB | 28 | 140W | $412 / £314 |
The new 10-core isn't the true replacement for the Haswell-E based 8-core for the simple reason there's still an eight-core option here – the Core i7-6900K, which retails for a more competitive $999 – essentially the same as the old Extreme Edition 8-core. In fact, along with the same smaller manufacturing process as the rest of the Broadwell-E line-up, the Core i7-6900K, which also sports 40 PCI-E lanes, is still an upgrade over the old Core i7-5960X, as it has 200MHz added to the base and turbo frequencies, which stand at 3.2GHz and 3.7GHz respectively, plus the addition of new Turbo Frequency tech.
There's yet a further option if you're still gunning for a two or three-way GPU setups and need those 40 PCI-E lanes, though, which is the Core i7-6850K. This is essentially the replacement for the old Core i7-5930K, sporting just 100MHz bumps to base and turbo frequencies plus the same cache amount. Finally, there's the Core i7-6800K, which actually sports an identical turbo frequency to the old Core i7-5820K, but has a launch price around $20 higher, which most other specifications except for the addition of Turbo Boost Max Technology 3.0. The die shrink here points at a tick, rather than a tock in Intel's tick-tock cycle, but with the company killing this off a few months ago, this could mean that Broadwell-E isn't the last CPU to land on LGA2011v3 if Intel makes the move to its new development process immediately.