In Win 303 Review
Manufacturer: In Win

UK price (as reviewed): MSRP £84.99inc VAT

US price (as reviewed): TBC
In Win's focus on premium, unusual, but nonetheless striking cases has been one of the best things about the enthusiast PC scene for a number of years. The likes of the 901 and 904, while not entirely practical, breathed some fresh air into the case scene that was starting to look tired. Today, In Win is back with a little bit of a compromise – a cheaper case – the 303, but one that still offers tempered glass and perhaps, more importantly, a really interesting internal layout too.
Click to enlarge
The 303 will set you back around £85, which in the overall scheme of things is very reasonable given that the 805, which is a similar case, retails for £130. That said, the latter has aluminium construction while the 303 is mainly steel, and as such it weighs in at nearly 2kg more. The 303 may even feel slightly tinny despite the use of steel, but the effect is slight. It is, for the most part, very well made, especially the finishing, which could even be an issue with the company's more expensive offerings with the odd rough edge.
Click to enlarge
The main exception here is the side panel. It uses the usual tinted glass we've come to expect from In Win, but rather than use thumb screws to hold the panel on, there's a large, fairly inconspicuous handle that you'll need to press at the top of the case. This was very stiff on our sample and required a fair bit of force. In reality, how often are you going to use it? Not many, so we can't be too harsh here as the design otherwise looks fantastic and works well.
The exterior is dominated by the huge side window and perhaps slightly polarising illuminated vertical front panel that sports a pair of USB 2 and USB 3 ports, audio jacks and a large In Win logo. In some ways, it's quite edgy and funky-looking, but from some angles it does look like a throwback to some 1990's budget PC case. If you can look passed this, though, there's much more to like about the 303.
Click to enlarge
The case feet give it a super-computer look that makes it appear unique and the far side panel has the characteristic hexagonal cut outs that double as a cooling vent for an interesting row of fan mounts inside – more on that in a minute. This panel, unlike the glass panel, is held on with thumb screws. The underside of the 303 has a humongous dust filter, but as some may have spotted already, this doesn't cater for the PSU, but a row of fan mounts in the base of the case, which points at a bottom to top airflow design. The filter, like the side panel, was a bit tricky to remove, but thankfully it's not something you'll be dealing with every day.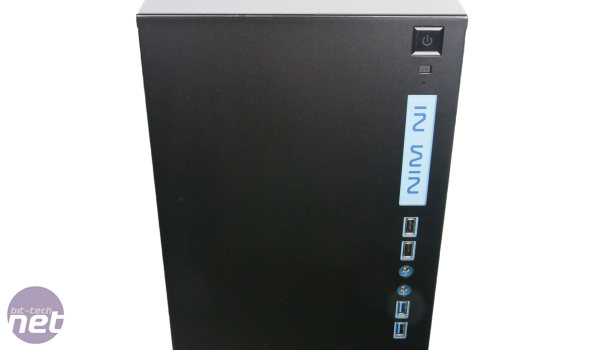 Click to enlarge
Specifications
Dimensions (mm) 215 x 480 x 500 (W x D x H)

Material Steel, plastic, glass

Available colours Black or white

Weight 10.88kg

Front panel Power, reset, 2 x USB 3, 2 x USB 3, stereo, microphone

Drive bays 2 x 3.5/2.5in, 2 x 2.5in

Form factor(s) ATX, micro-ATX, mini-ITX

Cooling 3 x 120mm side/roof fan mounts (fans not included), 1 x 120mm rear fan mount (120mm fan included), 3 x 120mm base fan mounts (fans not included)

CPU cooler clearance 160mm

Maximum graphics card length 350mm

Extras Removable dust filter, GPU support