Asus X99-A II Review
Manufacturer: Asus

UK price (as reviewed):£226.79(inc VAT)

US price (as reviewed):$249.99 (ex Tax)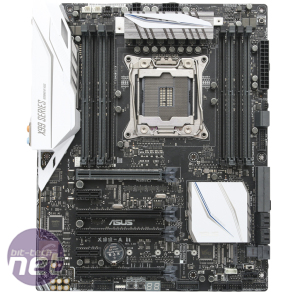 When Haswell-E and the X99 chipset launched two years ago, they brought new storage standards to the mainstream along with additional PCI-E lanes and an interesting line-up of CPUs too.
As of last week though, things have moved on and, in short, if you want to build an Intel system with SLI or CrossFire along with a CPU with six or more cores plus the latest storage standards such as M.2 and U.2, then you'll be wanting a Broadwell-E CPU and a new X99 motherboard.
Actually, the latter isn't strictly true – the vast majority, if not all, of older X99 boards will support the new CPUs after a BIOS update, but to be on the safe side and make sure your board supports all the new features the CPUs have to offer, our recommendation is that you go for a newer model such as Asus's X99-A II.
At £220, it sits in the middle of a busy line-up of X99 boards that start at around £170 and rise to nearly half a grand. There's a mini-ITX example in ASRock's X99E-ITX/ac, several micro-ATX models such as the Gigabyte X99M-Gaming 5 and EVGA X99 Micro but the ATX arena is certainly quite crowded.
Click to enlarge
Asus is pinning its hopes on a number of features offered by its latest X99 models, namely in the aesthetics department. Yep, you guessed it – RGB lighting is here with a vengeance, and not only does the X99-A II offer a 4-pin RGB header, it also includes an 80cm extension cable plus onboard LEDs on the PCH heatsink, audio circuitry and PCI-E slot levers. The board itself also boasts a large white shroud covering the ugly I/O area and, the design being otherwise fairly plain, the lighting can be used to good effect to match it to your own system.
Click to enlarge
Of course, the price does include a vast array of other features in addition to supporting Intel's new 14nm CPUs out of the box. You get both M.2 and U.2 ports as well as SATA Express and with 10 SATA 6Gbps ports in total, we can't imagine anyone being left short here. Asus appears to be on the ball with audio too with Realtek ALC1150 8-channel surround sound with 112dB SNR output and 104dB SNR input. This puts it on par with the best we've seen so far in terms of audio quality from an X99 board, while the 8-phase power design and decent cooling should mean it's an efficient as well as decent overclocking board too.
Click to enlarge
The lighting is effective and not too harsh, with the only criticism being that on the audio circuitry side it doesn't shine through the PCB particularly well. Even in a dark room the bulk of the light simply bounces off the motherboard tray. It would be good to see more transparent areas of the PCB here as this can look quite funky.
Click to enlarge
There are USB 3.1 Type-A and Type-C ports, although these are powered by an ASMedia controller rather than Intel. There are a couple of things missing though, the first being WiFi, which was included on the similarly-priced Asus X99-Pro, and while most overclocking tools are present there's no CMOS clear button. Something else we spotted is that the PCI-E lanes are divvied up slightly differently to its predecessor.
For 3-way GPU setups, you'll get x8/x16/x8 whereas on the X99-A you got x16/x16/x8. We can only assume this is due to the addition of a U.2 port eating into the available bandwidth. This is all with 40-lane CPUs of course, but with Nvidia no longer officially supporting 3-way SLI, or at least doing its best to discourage it with its latest GPUs, we doubt this is much of an issue for the vast majority of us anyway.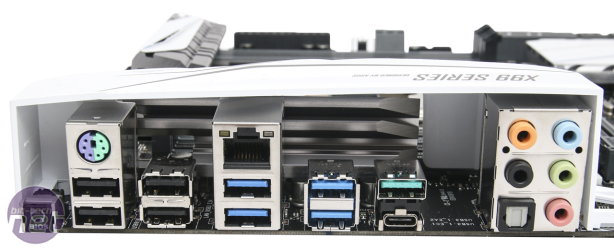 Click to enlarge
Specifications
Chipset Intel X99

Form factor ATX

CPU support Intel LGA2011-v3 (Broadwell-E, Haswell-E, Xeon)

Memory support Quad-channel, 4 slots, max 128GB

Sound 8-channel Realtek ALC1150

Networking Intel I218V

PCI-E graphics configurations x16, x16/x16, x8/x16/x8

Ports 1 x M.2 PCI-E 3.0 x4, 1 x U.2 PCI-E 3.0 x4, 1 x SATA Express, 10 x SATA 6Gbps, 5 x Intel USB 3.0 (4 via headers), 8 x Intel USB 2.0 (4 x via header), 1 x ASMedia USB 3.1 Type-A, 1 x ASMedia USB 3.1 Type-C, 3 x ASMedia USB 3.0, 1 x LAN, audio out, line in, mic, Optical S/PDIF out

Dimensions (mm) 305 x 244

Extras LED POST code display, power and reset buttons, RGB lighting plus 80cm RGB 4-pin extension cable.